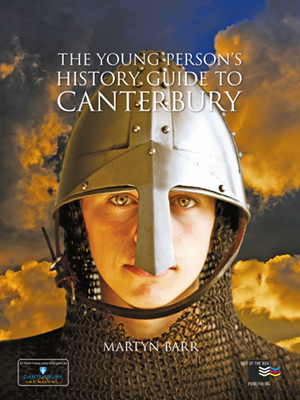 Canterbury is one of Britain's oldest and best loved cities. It has been at the forefront of some of the most important events that have taken place in this country, and inspired the people who lived and worked here to go on and do great things.

Written especially for young people, though designed to appeal to all ages, this richly illustrated guide charts Canterbury's fascinating history over the past 2,000 years, from the earliest Iron Age settlement on the banks of a swampy river to the 21st century cosmopolitan city we see today.

You can buy copies from our online store, priced £5.99 including FREE postage and packing, or from book shops. £1 from every copy sold will be donated to Canterbury Cathedral's restoration project.



Reviews
"A beautiful book, visually stunning, information-packed and easy to read; no Kentish home would be complete without it."
Stewart Ross, award-winning children's author


"A well written, accessible reference book on the archaeology and history of Canterbury for young people and their parents."

Marion Green, Education Officer, Canterbury Archaeological Trust


"Martyn has captured the essence of both the history and beauty of Canterbury and presented it in an enchantingly attractive way."

Dr Margaret Griffin, educational consultant and former head teacher


"A lively and entertaining read, packed full of fascinating stories, which I hope will encourage readers to go out and explore Canterbury for themselves."

Janice McGuinness, Head of Culture and Communications, Canterbury City Council