No lovelier place?
12 09 16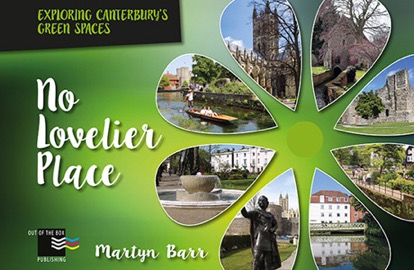 Martyn Barr's latest book explores Canterbury's well and lesser known green spaces.
Sponsored by the Whitefriars shopping centre as part of its contribution towards Canterbury in Bloom 2016,
No Lovelier Place
celebrates Canterbury's green spaces, with fascinating insights into their history, ecology and environment. As with previous Whitefriars sponsorships, free copies have been sent to every school in the district.
The book takes its title from a letter written by modernist writer Virginia Woolf to her sister in 1904 which stated: "There is no lovelier place in the world than Canterbury – that I say with hand on my heart as I sit in Florence – and I have seen Venice too." Woolf spent time in Canterbury and stayed in Blean, coincidentally where Martyn now lives and works. A college at the University of Kent is named in her honour.
Commenting on
No Lovelier Place
, Canterbury Connected BID CIC Chief Executive Bob Jones describes it as "… a lyrical homage to a beautiful city's most beautiful places". He adds: "With stunning imagery and Martyn's eye for quirky detail and fascinating facts, it is as interesting and compelling for those of us who think we know Canterbury well as it will be to a first-time visitor."
The 68-page softback book is lavishly illustrated throughout, with many of the photographs taken by Martyn himself. Copies of
No Lovelier Place
can be purchased online at £5.99 including delivery from
www.OOTBShop.co.uk
, along with Martyn's other titles. The book is also available from Canterbury Cathedral Shop and other city centre outlets.